Welcome to Mason Dixon Animal Emergency Hospital! We are so excited to open our doors to the community and bring our 40+ years of veterinary and pet emergency room experience to your four-legged companions.
Third Year is a Charm
In our third year of providing veterinary emergency care, we would like to thank our community for supporting our team. Please consider donating to the Mason Dixon Miracle Fund, which offers financial support to family pets in need.
Our first priority is your pet's health and wellbeing. We strive to treat all pet emergencies as rapidly and compassionately as possible, while providing clear and frequent communications with our clients. We care for your pet as if it were our own, so our ER vet services are wide-ranging, kind-hearted, and affordable.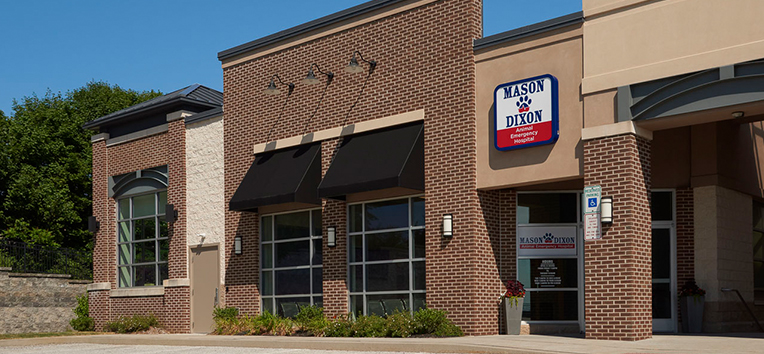 The First Choice for Comprehensive, After Hours Emergency Veterinary Services
Mason Dixon Animal Emergency Hospital provides personalized ER care for pets in a warm and welcoming environment. Why? We know that a pet emergency can be traumatic and stressful, so we take the time to get to know you and your pets personally, so that we can provide the highest quality care at the best possible value.
Our pet emergency services include outpatient treatment for upset belly, minor wound repair, lameness/sprains, and other minor conditions. We also specialize in intensive care and emergency pet surgery performed in our state-of-the-art pet surgery suite. While your pet is hospitalized, we provide individualized care that is administered by an experienced veterinary team. Your pet patient will have constant supervision by an ER veterinarian and veterinary nurse.
Our in-house laboratory is further outfitted with x-ray, ultrasound, oxygen supplementation, and blood transfusion equipment. In an event where euthanasia may be required, we will support you through the decision to say goodbye to your loved companion and respectfully manage aftercare. If you have an after-hours pet emergency, turn to the team that treats you like family.
Mason Dixon is More Than Just a Name, It's an Emergency Pet Hospital Committed to Our Community
Conveniently located in Shrewsbury, PA, our emergency veterinary hospital provides critical after-hours pet care for northern Baltimore County and southern York County, as well as surrounding areas in Maryland and Pennsylvania. We love both working and living in the Mason Dixon community – our vets drive home to Stewartstown, White Hall, and Lancaster. We're not owned by a large corporation like many other ER vets and emergency pet centers. We're women-owned and locally-owned, and we're proud of it.