Sometimes you need to know NOW!
Our ER is equipped with a comprehensive in-house laboratory that can measure a variety of blood values in a short amount of time.  In most cases, results are ready within an hour.  This allows us to create a proper treatment plan for your pet as well as make decisions and therapeutic choices to expedite the healing process.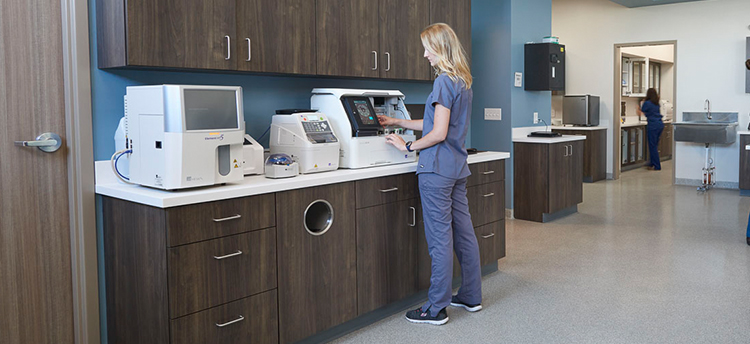 The most common laboratory tests are:
CBC (Complete Blood Cell Count):
CBC measures the number of red blood cells, white blood cells and platelets in a sample of blood. The numbers of each type of cell provides information to help diagnose anemia, infections and leukemia.
Chemistry Panel
A blood chemistry panel measures electrolytes, enzymes and chemical elements of your pet's blood. These measurements help your veterinarian determine how your pet's organs, such as kidneys, pancreas and liver, are functioning. Blood chemistry panels help diagnose and treat illness, as well as monitor your pet's response to treatment.
Fecal Examination (Fecal)
Intestinal parasites can cause diarrhea and sometimes vomiting in pets. Fecal examinations confirm the presence of intestinal parasites, including roundworm, hookworm, whipworm, tapeworm and giardia.
Urinalysis (UA)
Testing of your pet's urine can help detect the presence of specific substances that normally do not appear in urine, including protein, sugar, white blood cells or blood. Urinalysis can be helpful in diagnosing urinary tract infections, bladder inflammation (cystitis), diabetes, dehydration, kidney problems and other medical conditions.